Hectic third day of competition at the 2023 ILCA Senior European Championships & Open European Trophy in Italy.
The activity began early this morning, with the first warning scheduled at 09:00, but at that time there was no wind, so the AP flag was raised on shore for both courses. It was only at 10:45 when the ILCA 7 boats were allowed to go on water with 6-7 knots of wind outside. 15 minutes later, the ILCA 6 Women and ILCA 6 Men were also allowed to launch their boats.
The sailing conditions were very tricky out there, with unstable and shifty winds and big swell. The first ILCA 7 races had to be abandoned due to the unsteady conditions. While the ILCA 6 managed to have their first races in the morning under very light breeze.
After some wait on water, and when we were starting to be disappointed again about the weather conditions, good pressure started to build and the courses suddenly filled with good medium to strong winds and big waves.
Under these new conditions, all the fleets were able to complete the scheduled regattas. With 4 races now in the score, the ILCA 7 fleet will enter the Final series tomorrow. The ILCA 6 Women have only 3 races, so tomorrow they will complete their Qualifying series. ILCA 6 Men actually has 4 races, but because they are one group, they won't be divided into Qualifying or Final series.
---
ILCA 6 Women provisional results
Vasileia Karachaliou POR is leading the Women's championships with 7 points after scoring a 2-1-4 today. Top places are very tight with Emma Plasschaert BEL and Anne Marie Rindom DEN following her with 8 and 9.
Polish sailors Agata Barwisnka POL and Wiktoria Golebiowska POL are also close with 13.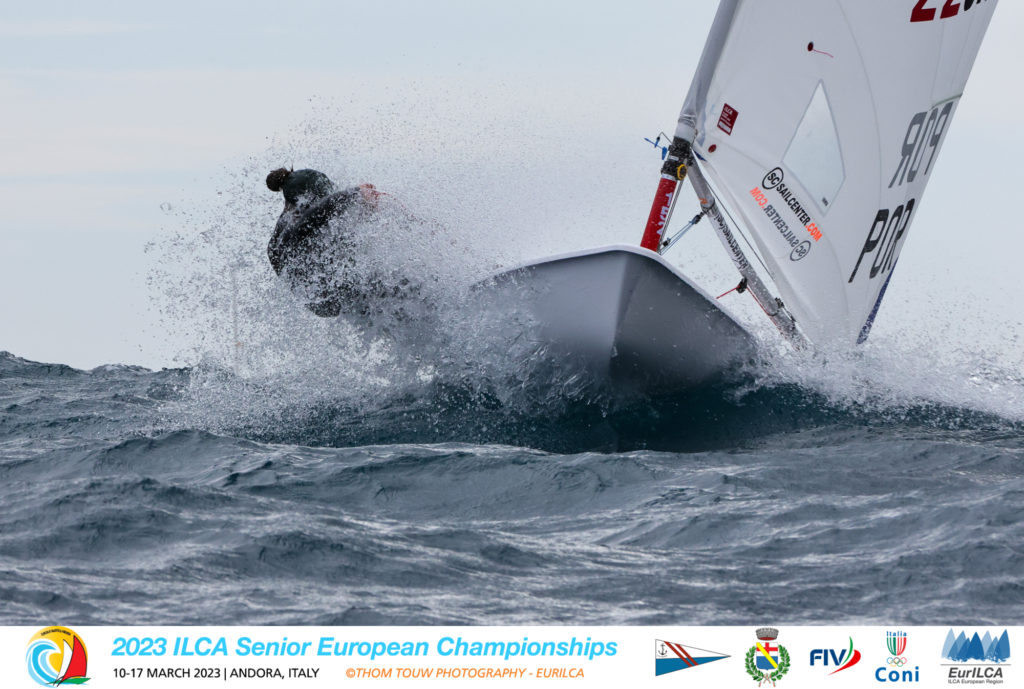 ---
ILCA 6 Men provisional results
Athanasios Kyfidis GRE is heading the fleet with 7 points (3-1-17-3), followed 1 point behind by the reigning European champion Rocco Wright IRL (4-6-3-1) with 8. Mattia Cesana ITA is third with 14. They are all Under 21 so leading both the overall and U21 championships.
---
ILCA 7 provisional results
Reigning World champion Jean Baptiste Bernaz FRA (1-3-1-10) is leading the competition with 5 points among 191 sailors. 3 of them are just 1 point behind him so the championship promises to be fight; Duko Bos NED (7-4-1-1), Philipp Buhl GER (1-19-1-4) and Matthew Wearn AUS (1-3-2-4) are all counting 6 units after this first 4 races. Tonci Stipanovic CRO (7-1-4-3) is also close with 8.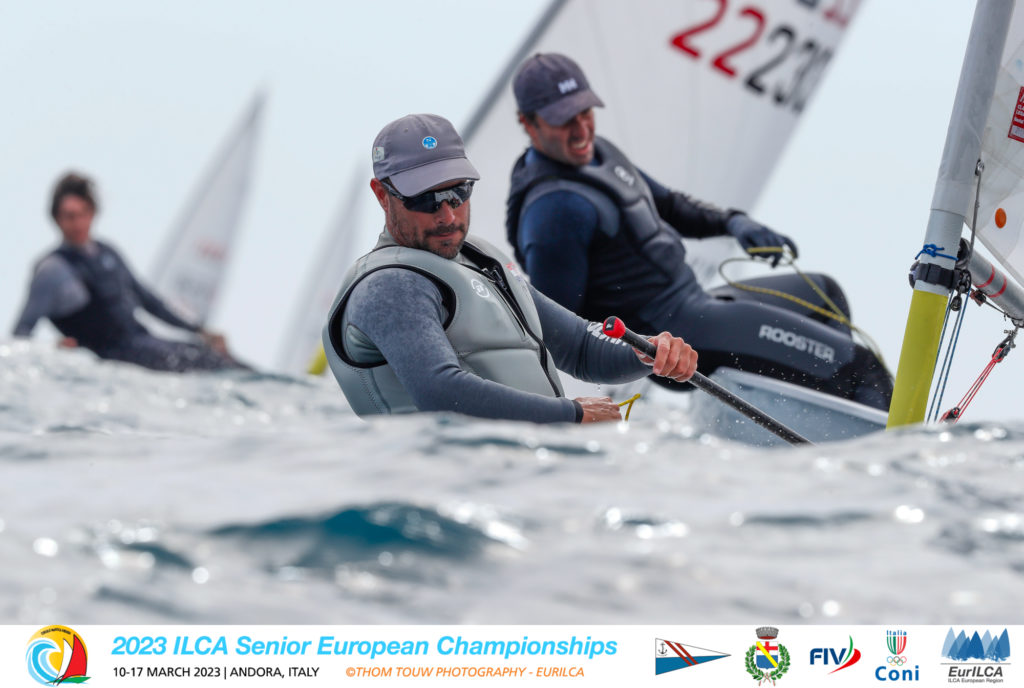 ---
3 races are scheduled for tomorrow, with the first warning signal at 09:00. Coaches meeting at 07:00.
---
For more information about the event, notice board, documents, daily reports and photos please visit the website;
Event website – 2023 ILCA Senior Europeans
For live news and contents please follow us on Instagram and Facebook. Event's hashtag: #ILCASeniorEuropeans2023
We invite you to subscribe to our YouTube channel to receive notifications when new videos are published.
---
Keep smiling, keep sailing
The EurILCA Team
---
Report by Agustín Argüelles – EurILCA | Photos by Thom Touw.