Once again, our European representatives reaffirmed their dominance in the ILCA Youth World Championships by winning 5 of the 6 2023 ILCA Under 21 World Championship medals, and achieving a strong presence throughout the fleet, obtaining 17 of the top 20 positions in the ILCA 6 and ILCA 7.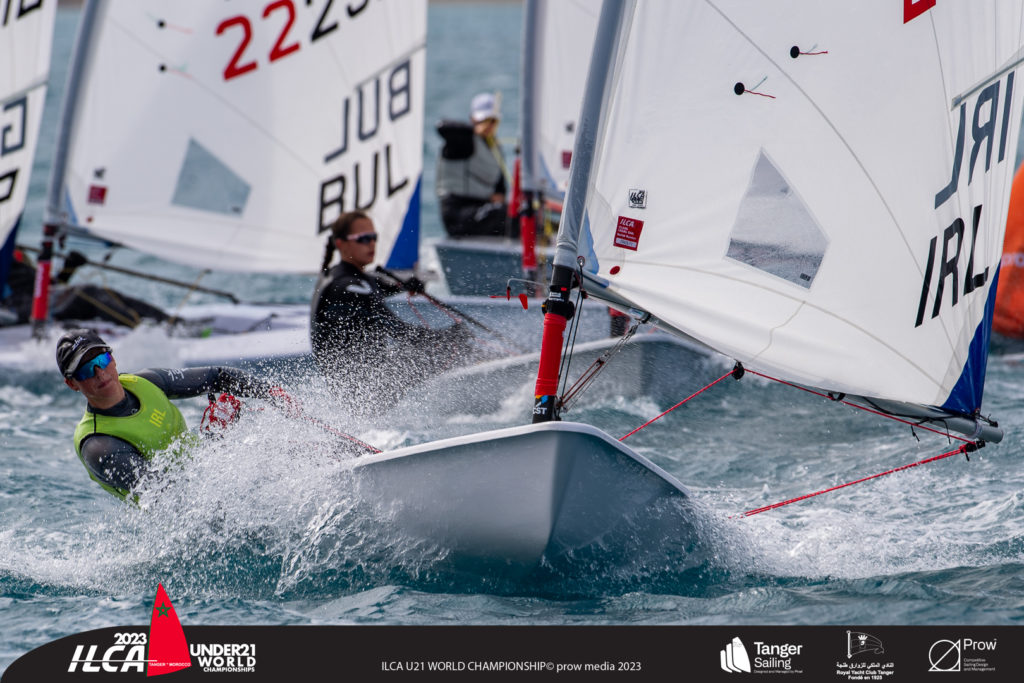 Eve McMahon IRL in her way to Gold at the 2023 ILCA U21 Worlds ©OSGA_PHOTO
Final results – ILCA 6
Overnight Women's leader Eve McMahon IRL secured the Gold medal today by finishing 8th in the last race, wrapping the event with 54 points.
This is her first Gold medal in 2023, which she will surely treasure along with all those achieved in 2022 at the Youth Sailing Worlds in Netherlands, the ILCA 6 Women's Youth Worlds in United States, and the ILCA 6 Women's Youth Europeans in Greece; plus the Silver medal obtained in the previous ILCA Under 21 Worlds in Portugal.
"I was delighted to take the win! Last year, I finished second, so I wasn't too happy about that. So again, I am delighted to then take the win this year. It was a very tough last day and very very windy. I didn't make life too easy for myself, as I capsized on one of the downwinds, but I got my boat back up on time, so it was okay. I'm just delighted to be here. It's a very good fleet, so I was just trying to stay as consistent as possible, and it paid off."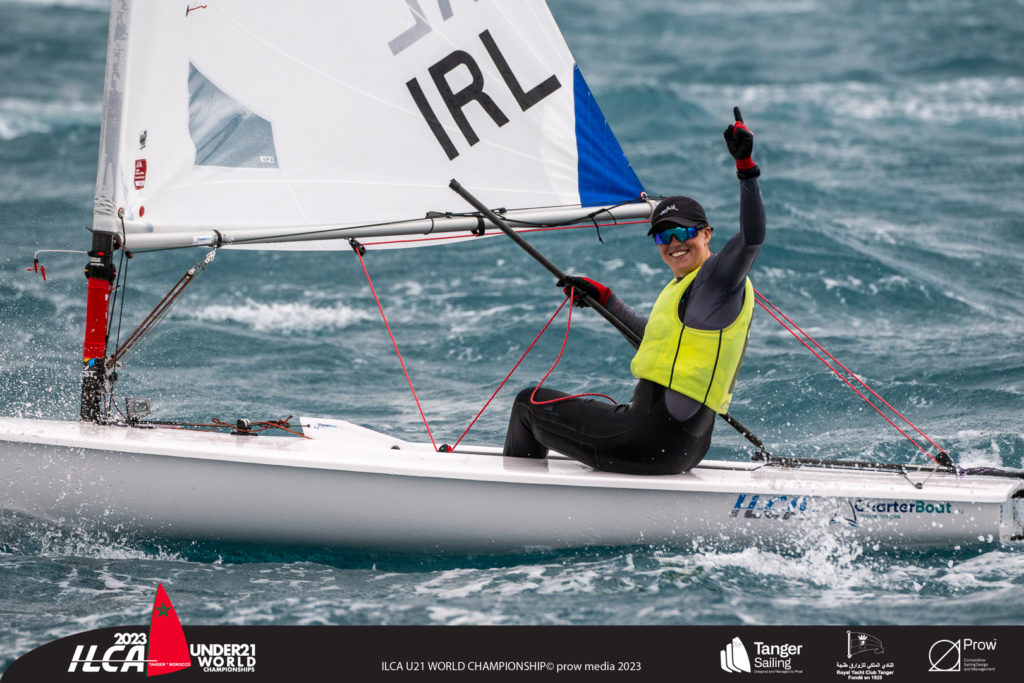 Eve McMahon IRL celebrating his victory in Tangier ©OSGA_PHOTO
Swiss Anja Von Allmen SUI and Italian Carlota Rizzardi ITA completed the ILCA 6 full European podium with 68 and 81 points respectively.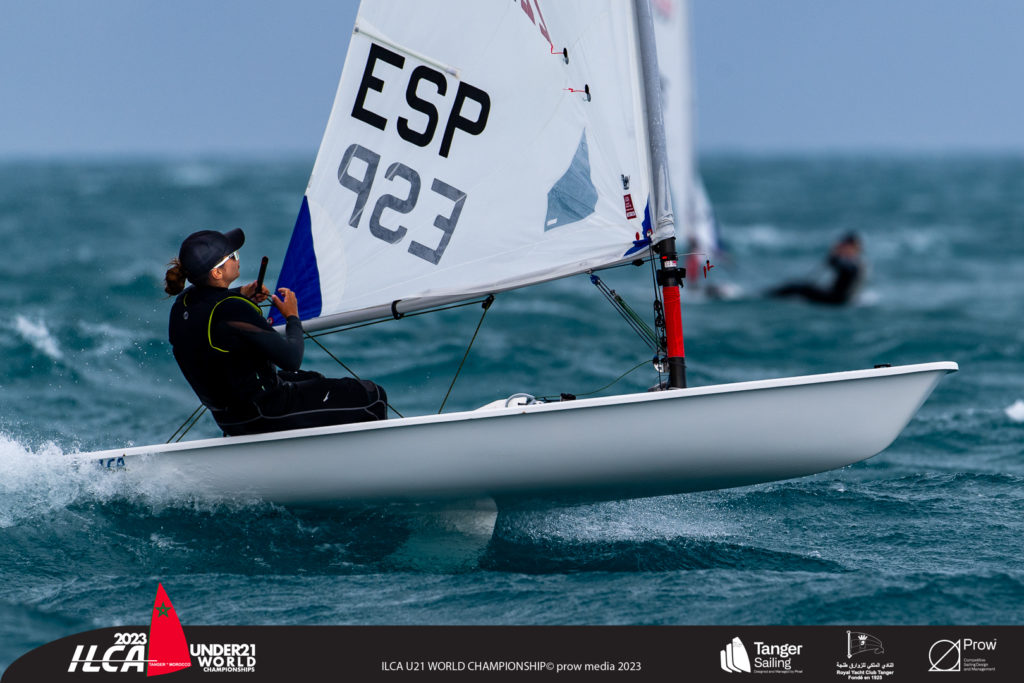 Flying mode for the ILCA 6 during last race in Tangier, Morocco ©OSGA_PHOTO
Places fourth to ninth were also for European representatives, with Italy placing 5 sailors among the Top 10;
Eve Mc Mahon IRL
Anja Von Allmen SUI
Carlota Rizzardi ITA
Ginevra Caracciolo ITA
Maria Vittoria Arseni ITA
Sara Savelli ITA
Josephine Heegaard DEN
Alessia Palanti CZE
Emma Mattivi ITA
Audrey Foley USA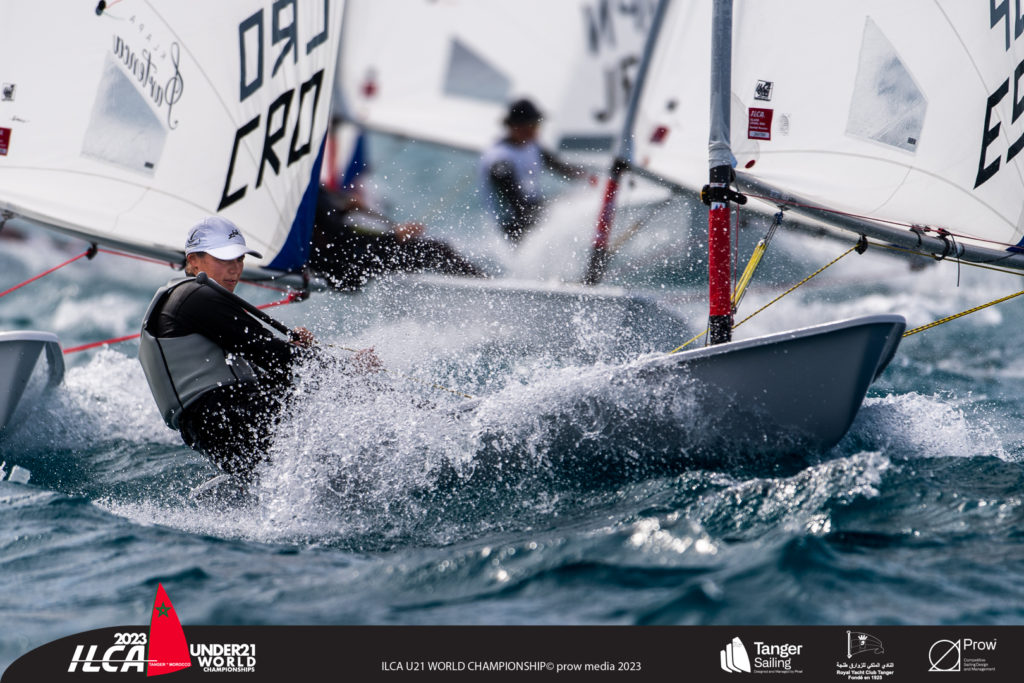 ILCA 6 action during last race of the 2023 ILCA Under 21 World Championships ©OSGA_PHOTO
Final results – ILCA 7
Overnight leader Finley Dickinson GBR sailed to win today in last race of the event to secure the ILCA 7 Gold medal in Tangier, wrapping the championship with 40 points after 11 races.
It's the first Gold medal for him after being close to the podium in recent 2023 ILCA U21 Europeans in Norway.
"Today, as the last day of the Under 21 Worlds, it was very windy. Probably upwards of 25 knots at one point, and there was quite a downwind! Thankfully, I managed to win the race, which was a really good way to end the event. I'd just like to say the event was really well done. And I also liked that the Ukrainian (Oskar) and I fought. Just would like to say that it's phenomenal that in that kind of wind, he was right on my side and stayed with me all day. He sailed really well."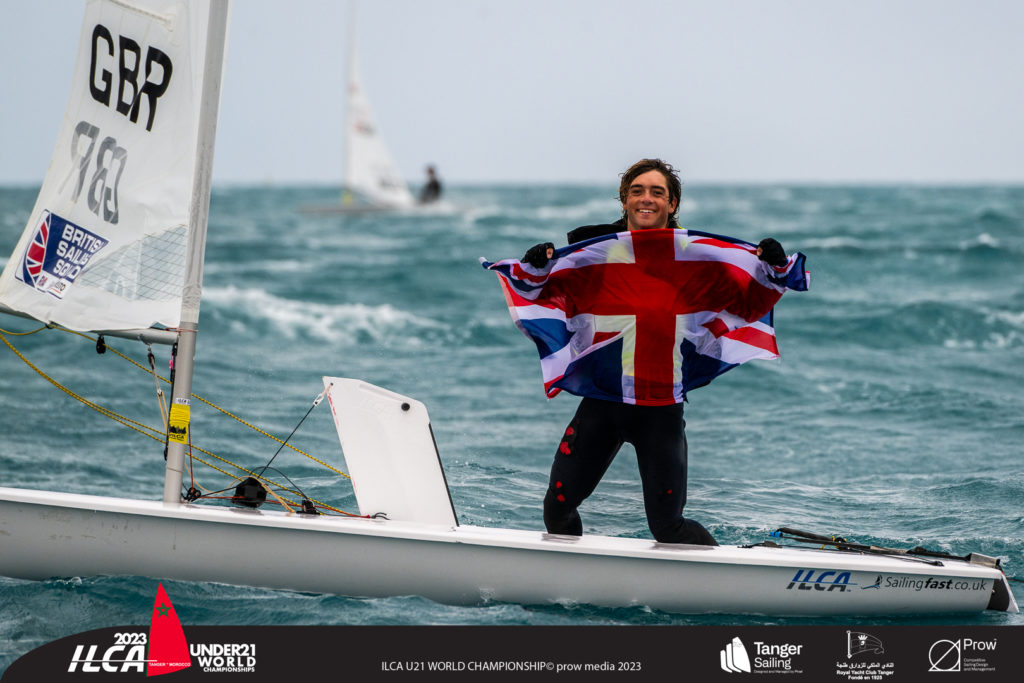 Finley Dickinson GBR celebrating his first Gold medal in a World championship ©OSGA_PHOTO
Oskar Madonich UKR and Caleb Armit NZL completed Men's U21 podium.
European sailors conquered 8 of Top 10 places in this fleet;
Finley Dickinson GBR
Oskar Madonich UKR
Caleb Armit NZL
Attilio Borio ITA
Pietro Giacomoni ITA
Stefan Elliot-Shircore AUS
Theodor Middelthon NOR
Javier Segui ESP
Enrico Tanferna ITA
Ole Schweckendiek GER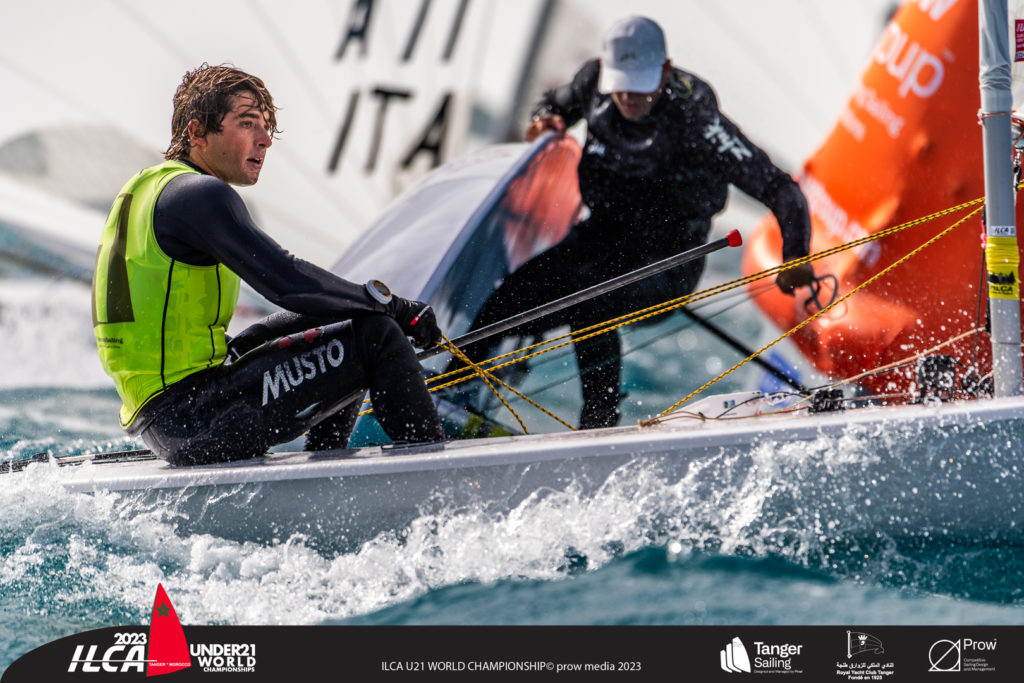 Finley Dickinson leading last race to conquer Gold medal at the 2023 ILCA U21 Worlds ©OSGA_PHOTO
Finally, the Under 19 World Championship title this year was also for an European representative, German sailor Ole Schweckendiek GER, who arrived to this event as the reigning 2022 ILCA U21 World champion in United States. He was also Gold medalist at the 2022 ILCA 6 Youth European champion in Greece. After loosing the recent 2023 ILCA U21 Europeans in Norway due to a last minute injure (broken arm), these 10th U21 and 1st U19 prizes are certainly a great achievement for him.
"I feel pretty nice. I had just one month of training before this event because of my broken arm. I had to rest for two months. I'm very happy that I could defend one of the titles from last year. It was a pretty difficult event for me because we had 5 of the 6 days with strong conditions. But I think overall I did it pretty good. Pretty challenging because I had a black flag out in the first race. But overall it was such a nice event. I had a lot of fun. I'm very happy to have been defending the U19 title and being top 10 overall."
Sebastien Kempe BER and Viktor Kateliev ESP accompanied Ole in the ILCA 7 Under 19 podium.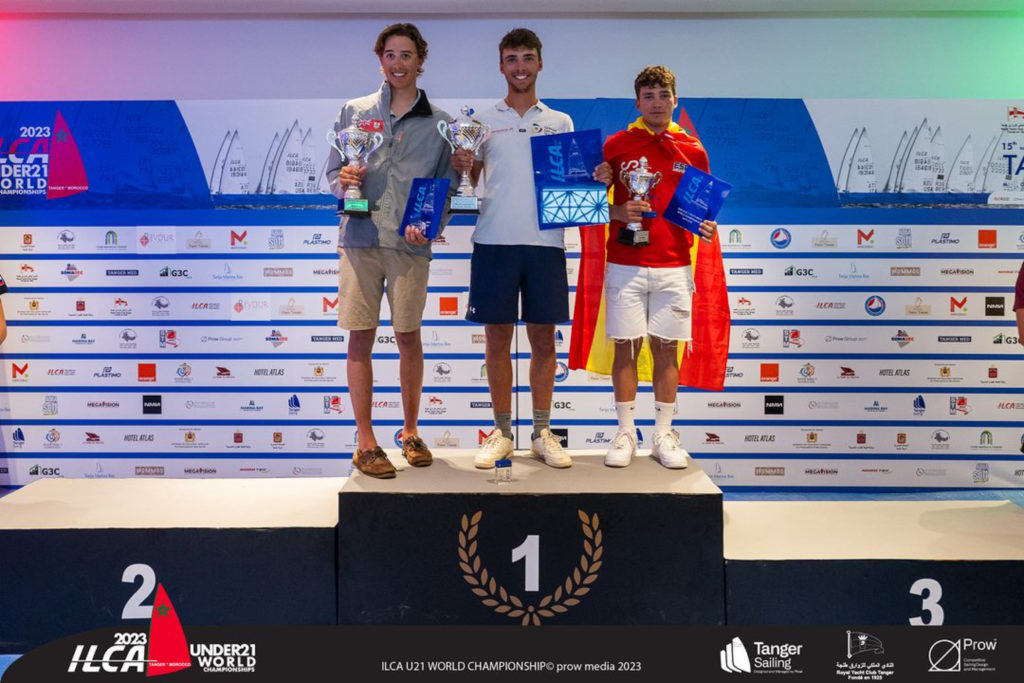 ILCA 7 Under 19 podium in Tangier ©OSGA_PHOTO
Report by Agustín Argüelles – EurILCA | Photos by Prow Group.