The Semaine Olympique Francaise 2022 –2nd step of World Sailing's 2022 World Cup Series– concluded yesterday after 10 races plus a Medal Race in Hyeres, with excellent results for our European representatives.
The last day all eyes were on the men's ILCA 7, the closest of the Medal Races among all the Olympic classes, while the ILCA 6 had the gold medal already guaranteed before the start.
Men's ILCA 7 – Kontides wins battle of the quartet
CYP – Pavlos Kontides – 42 points
GBR – Elliot Hanson – 43 points
GBR – Michael Beckett – 50 points
Despite stiff competition, the ILCA 7 lived up to its billing as the Medal Race of the day with Pavlos Kontides CYP, the first Cypriot to ever win an Olympic medal (silver at London 2012), emerging from the mêlée victorious.
Just three points separated four boats at the start and it was a winner-takes-all battle for top three of Germany's Philip Buhl GER, Cyprus's Pavlos Kontides, level on points, and Britain's Michael Beckett GBR, two points behind. With fellow Briton, Elliot Hanson GBR just one point further back.
Hanson won the Medal Race but Kontides did what he needed to do, with Beckett, the winner in Palma, back in fifth and Buhl, the 2020 World Champion, stuck at the back for the third race in succession.
---
Pavlos Kontides:
"It started light and got lighter. It's always tricky in these situations because you gain but you can also lose. So, if you're off the podium you feel really gutted. It's one of these situations in sport where you feel that you should have four medals. All four guys sailed really well except like one day each.
I'm really happy. It's been a hard couple of years for me, especially after Tokyo. Before Tokyo I had issues with my health and it was pretty hard to perform in some events. But I was ready for Tokyo and I just missed the podium.
I became a father in December and I've tried to enjoy my sailing. I ran out of fuel in Palma and I felt better here and I'm really grateful for being able to perform well here. The wind just died and there was a lot of tacking and gybing and you never know if somebody will get flagged or not. I think we were all pushing the limit of the rules, maybe even beyond the limit.
I managed to stay in more clear wind. Then it was a battle for the first with Eliott and maybe if I'd risked a gybe at the end I could have won, but I didn't want to risk it since I didn't have to pass him. It would have been an aggressive gybe and sometime the judges will flag you about that.
Then in the last reach it was stressful because he (Hanson) was kind of waiting for me because his chance was to make me lose places from behind, but it's always tricky because he might lose as well. But eventually he had to give me room. The third boat was Matthew Wearn (Olympic champion) and it was important that he didn't pass me."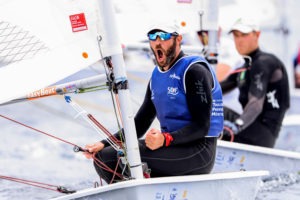 ---
Women's ILCA 6 – Champagne Gold for Poland
POL – Agata Barwinka – 86 points
FRA – Marie Barrue – 111 points
FRA – Louise Cervera – 113 points
Poland's Agata Barwinska POL had no pressure in all senses, with the gold medal in the bag already on Friday and only 2-3 knots at times in the Medal Race. Although, despite a lead of 21 points over second place – France's Marie Barrue FRA – she had to wait until 21:05 on Friday night for the results of a protest until she could celebrate.
Behind Barwinska it was very tight. Barrue did just enough to hold onto silver, but if she had dropped on more place from fifth her fellow Frenchwoman Louise Cervera FRA would have overtaken her. And if Cervera, who was third had dropped one more place, Belgium's Emma Plaaschaert BEL, 4th at the Tokyo Olympics, who won the Medal Race would have taken bronze.
Agata Barwinska:
– When did you find out last night about the jury decision on the protest your last race and that you'd won gold?
"At 21:05! The decision was there was nothing to see and I could celebrate. I've always been in the Medal Races here and finally I'm on the podium and at the top, so very happy.
In the Medal Race I didn't have to worry, I didn't have any pressure. I was sixth and I was trying to not get anybody in trouble, because I'd already won, so I wanted to leave them to sort out their things and stay away from them."
---
---
Report by Agustín Argüelles – Source: SOF / FFVoile.