Racing kicked off today in Vilamoura, Portugal, at the ILCA Vilamoura European Continental Qualification. This event will deliver the last European spots for the next 2021 Olympics in Tokyo.
After a long period without major regattas due to the pandemic situation, mainly all of the top sailors, even from qualified countries, are assisting to this event.
Organized by Vilamoura Sailing, this qualifier event is held for European countries to claim their remaining four slots for the Tokyo Olympic Games: two in the women's ILCA 6 fleet and two in the men's ILCA 7 fleet. There are eight countries competing for the two ILCA 6 Olympic tickets, and 17 countries vying for the two ILCA 7 slots.
150 sailors from 34 countries were able to come together for this event, as Vilamoura continues to be one of the few places in the world right now where sailing competitions are open. For many, this regatta represents the last chance to make it to Tokyo.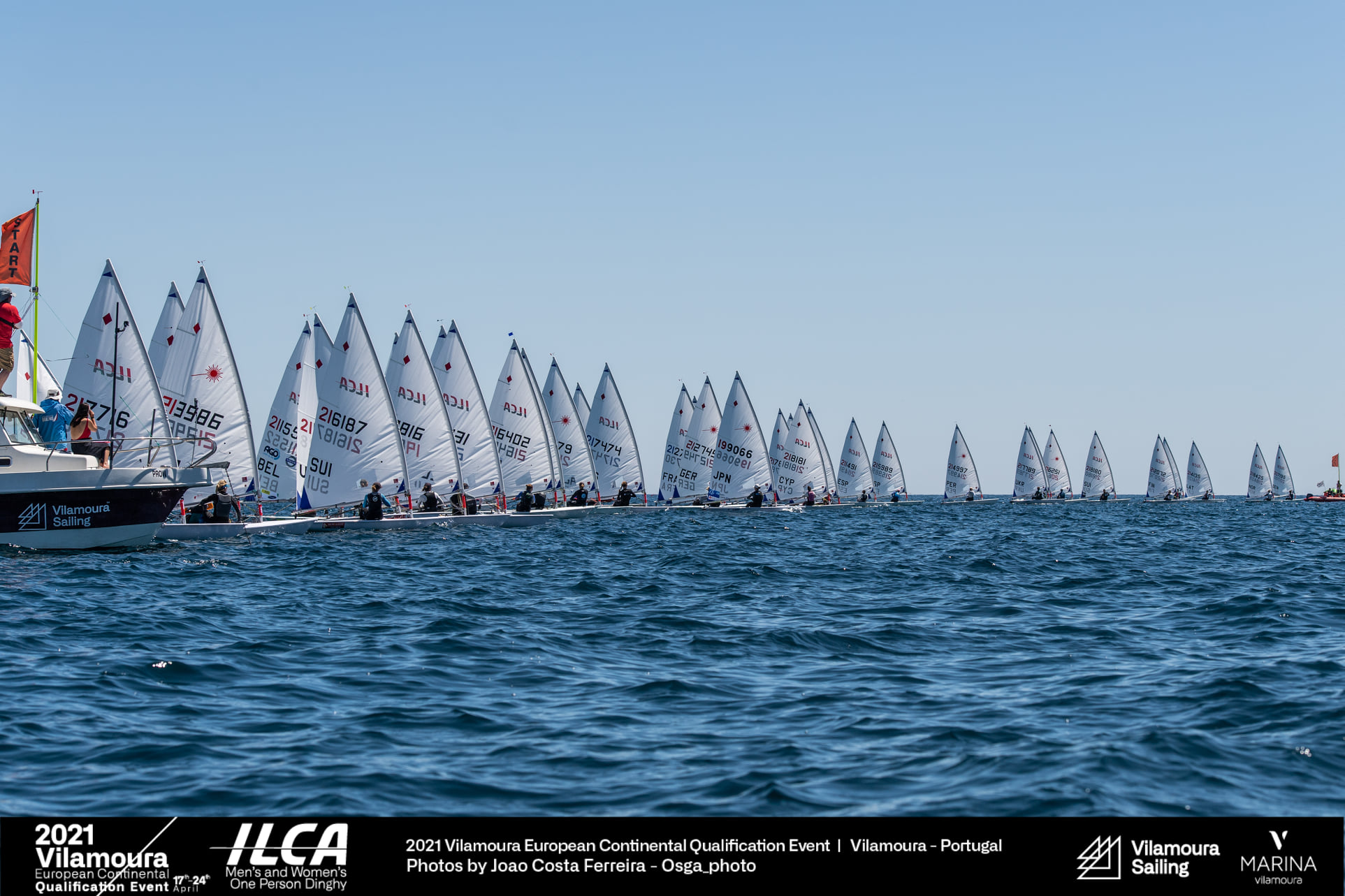 ---
"Vilamoura Sailing has created unique safety conditions over the last year from the public health point of view, and this has been recognized by national and international entities. The world's sailing elite have been in Vilamoura, training and participating in European and world events since September 2020," says Nuno Reis, director of Vilamoura Sailing.
The day started lazily due to the lack of wind, as the sea breeze built up only in the afternoon. Women sailed their first race with 5-7 knots and second one with 7-11. Men's first race was held under 20 knots of wind, and the second one required a course change due to a big wind shift.
The women's fleet was split into two fleets, red and green. Each fleet had a consistent leader today where both serious Olympic contenders Basileia Carahaliou GRE and Anne-Marie Rindom DEN got two bullets in their fleets. With two consistent fourth-place finishes today, Marie Barrue FRA sits behind them on the leaderboard, just ahead of Japanese Manami Doi and Shai Kakon ISR.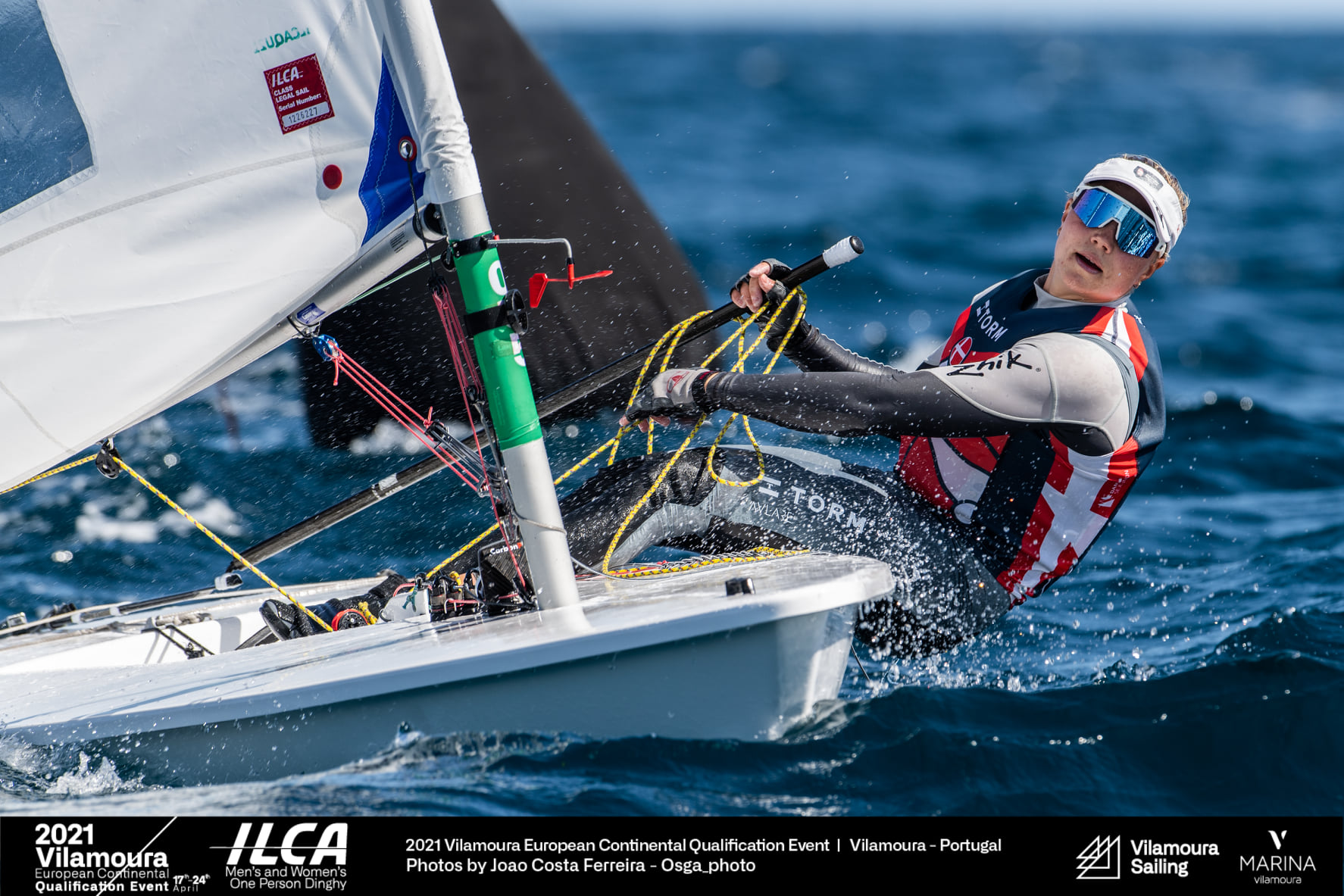 Eight European countries are fighting for the last two Women's Olympic spots here and currently they are Shai Kakon ISR (5th) and Carolina João POR (21st) who would be achieving this goal. Ebru Bolat ROU (56th) is third on this list.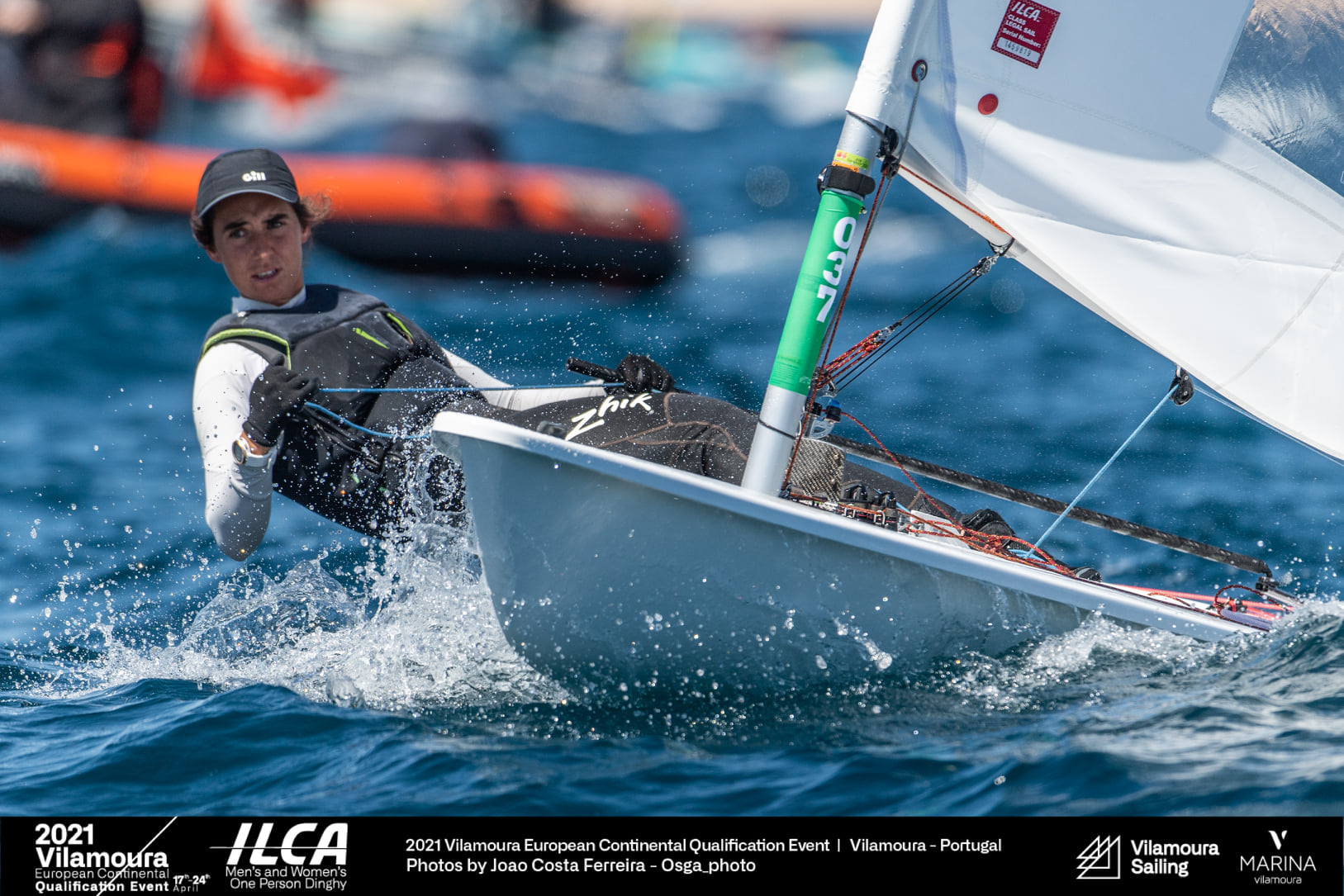 The ILCA 7 fleet, also divided into two fleets, is led by the one and only Robert Scheidt of Brazil who finished with two second places today. Maxim Nikolaev RUS sits just one point behind after finishing with a third place and second place in today's two races. Tonči Stipanović CRO and Peruvian Stefano Peschiera both carry 10 points just ahead of Kaarle Tapper FIN with 11 points.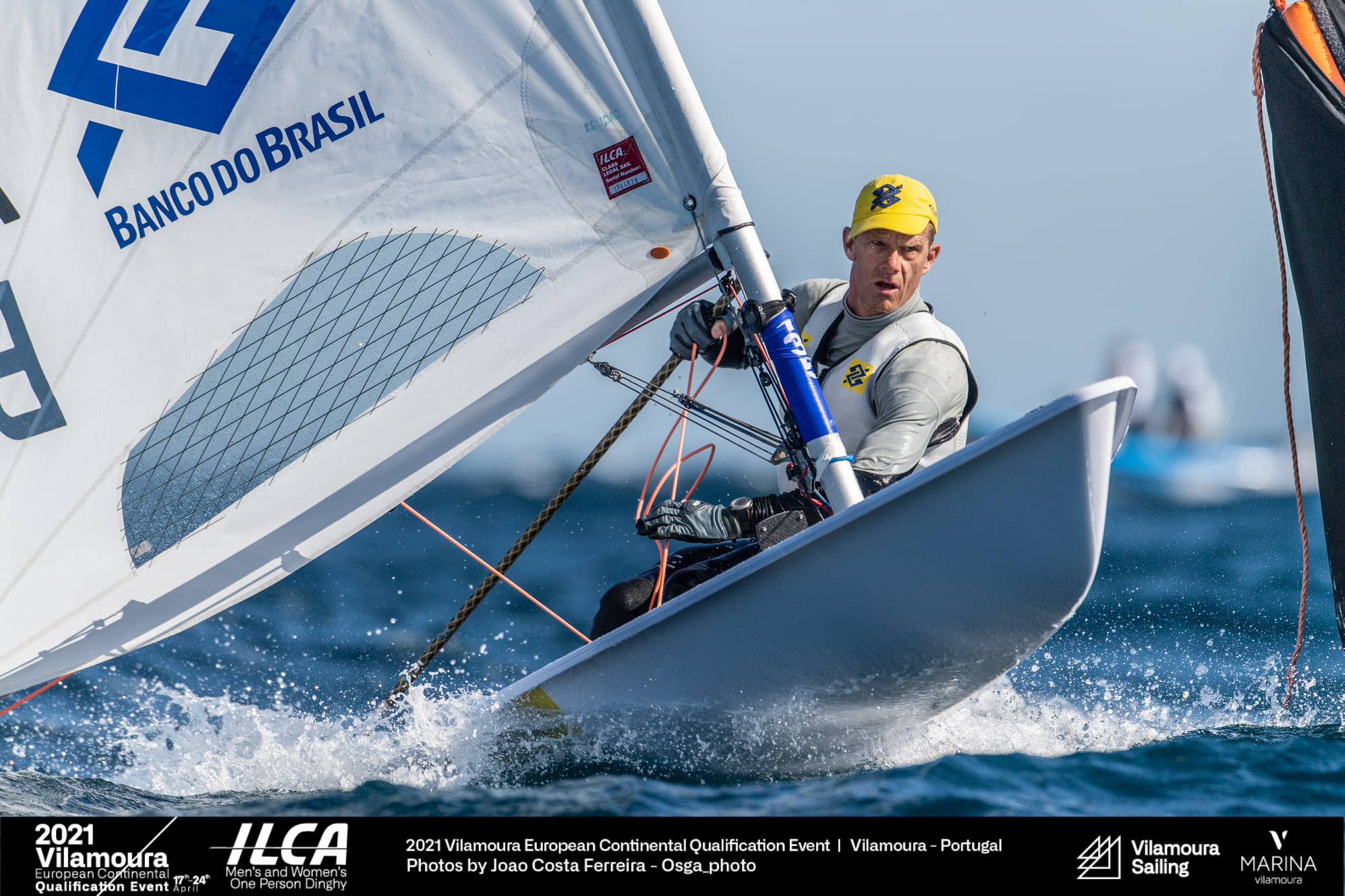 Much more harder will be the battle among the Men's fleet to get one of those last two Olympic places, with seventeen European nations fighting for them. Joel Rodriguez ESP (8th) and William De Smet BEL (10th) would be the awarded sailors today.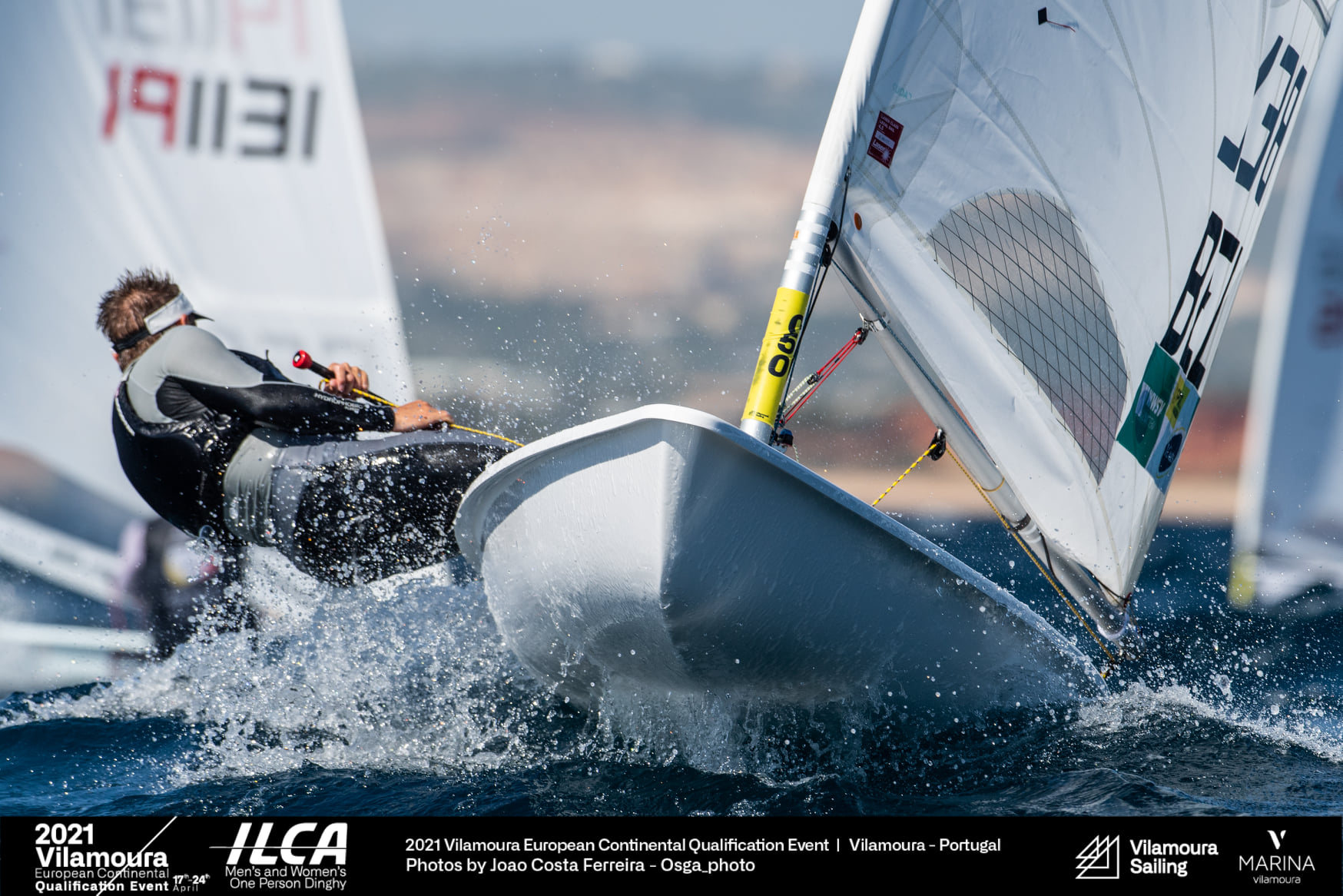 Racing will continue tomorrow with two more races scheduled. Live streaming of the racing will be available later in the week on April 22–⁠24.
By Agustín Argüelles – EurILCA | Source: ILCA | Photos: João Costa Ferreira – Vilamoura Sailing.